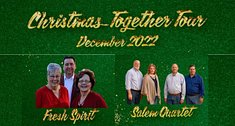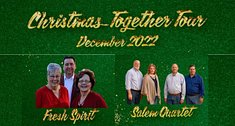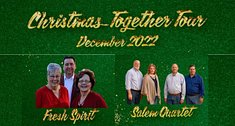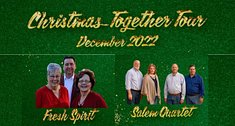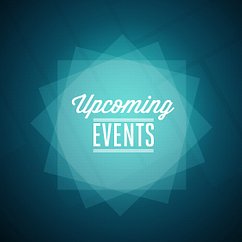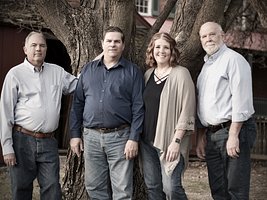 To schedule us for an event, please call:
Dyan Garner at 937-719-3323 or
Email us at: SalemQuartet@gmail.com
We look forward to seeing you soon!
Collinsville Church
Saturday, December 3, 2022
6:00 pm
5091 Hamilton Eaton Road
Hamilton, OH 45031
Currently Accepting Bookings!
The COVID-19 Pandemic certainly affected our performance schedule BUT we are ready to sing! If you have a church service, special event, or a Thursday night that you would like to have us come and worship with your church or organization, LET US KNOW!
Greater Cincinnati Southern Gospel Musis Assn
December 10, 2022
5:00 pm
8580 Plainfield Road
Cincinnati, OH 45236
Antioch United Methodist Church
December 17, 2022
4:00 pm
Wolf Creek Pike
Trotwood, OH

College Women's Luncheon
Monday, December 5, 2022
Noon
6355 Manchester Road
Franklin, OH 45005

Faith Baptist Church
December 18, 2022
11:00 am